Ozo is this week's Head of House! Did you see that coming? We definitely didn't.
He emerged as the winner after winning a particular grueling edition of the Head of House challenge and chose Dorathy as his deputy. As usual, this means that they both get to live in the luxury Head of House lounge and enjoy immunity from the coming evictions while the other housemates scramble for votes.
Yesterday, the housemates played the same HoH game that is styled after the popular Snakes and Ladders game, with the only difference being the introduction of some new obstacles such as a ring toss and having to draw a portrait of oneself.
To start the game, each housemate must first make the die land on a 6, and then whatever number they roll on the die will move their totems across a corresponding number of the squares on the mat. This week, the housemates had one minute and ten seconds to complete the game or go as far as they could.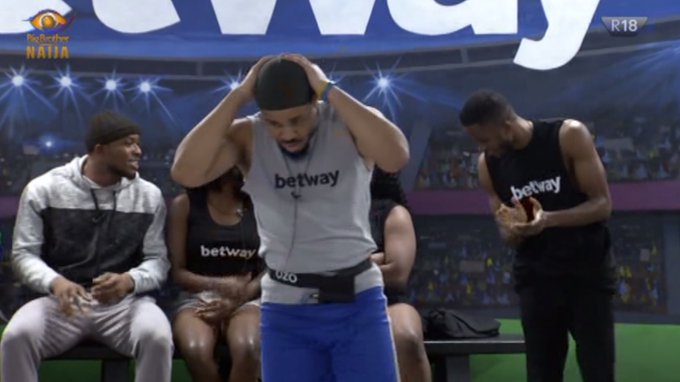 After receiving a gentle reprimand to take the games more seriously from Ebuka, and after witnessing a double eviction just yesterday, the housemates faced the Head of House challenge with a vengeance.
Lucy was prevented from joining the games since she was the HoH from last week, but most of the other housemates put their best into the game. Even though Kiddwaya, Nengi, and Vee had high scores, Ozo beat them all by scoring 30 and getting to the very last square on the mat.
Big Brother gave the other housemates a chance to beat Ozo's score, but no one came close, so Ozo was announced as the Head of House for the week. He was ecstatic at his win, and despite their loss, the other housemates were happy for him and cheered him on.
We think Ozo will be a pretty cool Head of House. Do you agree?
Voting opens again tonight at 10 pm WAT and will close on Thursday, 6 August at 10 pm WAT.
Fans can now vote for their favorite housemate to stay in the Big Brother Naija on the website and mobile site – africamagic.tv/bigbrother.
Also, via SMS by texting VOTE and the NAME of the HOUSEMATE to 32052. (SMS costs N30 for Nigeria only and available on the participating networks – Airtel, MTN and 9Mobile).
This season, the tiered voting system will give DStv and GOtv viewers more votes via the MyDStv and MyGOtv apps to keep their favourite BBNaija housemates in the house. DStv Premium customers will get 2,500 votes; Compact Plus will have 1,500 votes; Compact customers will get 750 votes while Confam and Yanga customers will get 500 and 200 votes respectively.
For GOtv customers on Max, they get 350 votes and GOtv Jolli customers get 200 votes. Voting on the MyDStv and MyGOtv apps is open only to subscribers in Nigeria with eligible packages and an active subscription.
Big Brother Naija season 5 airs 24/7 on DStv channel 198 and GOtv Max and Jolli on channel 29. Sign up to DStv today via www.dstvafrica.com or get GOtv Max or Jolli on www.gotvafrica.com
Betway is the Headline sponsor of BBNaija season 5 and the Gold sponsor is Guinness.
To keep up with all updates on the show, visit https://ift.tt/1tJdduS. You can also follow the official Big Brother Naija social media pages for news and updates with the hashtag #BBNaija on Twitter @bbnaija, Instagram @bigbronaija and Facebook https://ift.tt/2jQaAuu as well as all verified social media pages of DStv Nigeria, GOtv Nigeria and Africa Magic.
The post BBNaija Lockdown: Ozo Wins The Third Head of House Challenge! appeared first on Nigerian Entertainment Today.
source
https://thenet.ng/bbnaija-lockdown-ozo-wins-the-third-head-of-house-challenge/?utm_source=rss&utm_medium=rss&utm_campaign=bbnaija-lockdown-ozo-wins-the-third-head-of-house-challenge